Chhattisgarh is a state in central India, formed when the 16 Chhattisgarhi-speaking southeastern districts of Madhya Pradesh gained statehood on 1 November 2000.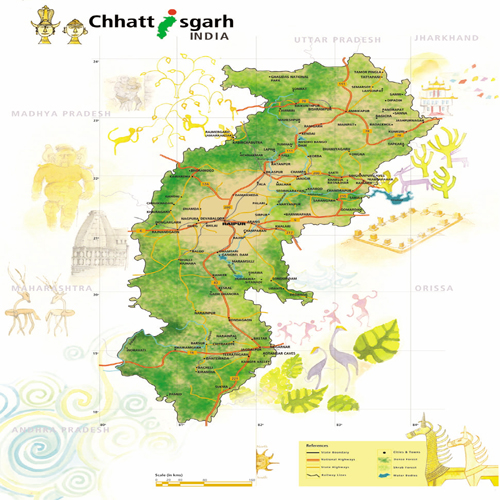 Raipur serves as its capital. It is the 10th-largest state in India by area of 52,199 sq mi (135,194 km²). Chhattisgarh takes its name from 36 princely states that constitute this region (chhattis means "36", and garh means "fort")


Tourist Places in Chhattisgarh


Kawardha:

Kawardha is a city and a municipality in Kabirdham district in the Indian state of Chhattisgarh. It is the administrative headquarters of Kabirdham district. Kawardha is also known for the "Temple of Bhoramdeo."

Chitrakote Falls:

The Chitrakoot Falls is a waterfall located near Jagdalpur, in Bastar district in the Indian state of Chhattisgarh on the Indravati River. The height of the falls is about 29 metres (95 ft). The breadth of the waterfall varies, as the water level in the river goes down drastically during summer. However during a monsoon the river touches both the banks and is filled with silt. In contrast, during summer the water carries no silt and looks different. This is a contrast to Jog falls which has water that looks white even during monsoon. The area around the falls is largely forested.

Kanker:

This thousand year old town offers a splendid grouping of forest, waterfalls and beautiful tribal villages grouped inside. Here is an old fort still resided by the splendid family of the region, which itself is one of the major tourist attractions in Chhattisgarh

Bhoramdeo:

It is often referred to as the Khajuraho of Chhattisgarh because of its brilliantly engraved erotic sculptures.

Chamaparan:

Champaran is a historic region, which now forms the East Champaran district, and the West Champaran district in Bihar. Champaran was part of erstwhile Bettiah Raj. Bettiah Raj's eighteen hundred square miles yielding a rental of almost 2 million rupees made it the second largest zamindari in Bihar belonging to a Bhumihar Brahmin family.

Bastar:

Bastar District is a district of the state of Chhattisgarh in central India. Jagdalpur is the district headquarters. The district has an area of 8755.79 km². Bastar District is bounded on the northwest by Rajnandgaon District, on the north by Kanker District, on the northeast by Dhamtari District, on the east by Nabarangpur and Koraput districts of Orissa state, on the south and southeast by Dantewada District, and on the east by Gadchiroli District of Maharashtra state. This near-perfect tribal ground embodies a wild temptation into unexplored forests with waterfalls and feral animals, age-old temples, tribal dance and harmony. It is one of the most important eco-tourism destinations of the country.

Seorinarayan:

The position is connected with tradition in the Ramayana. Some consider the 10th/11th century holy place to be even more blessed than the temple of Lord Jagannatha in Puri.