Home :: Seven Sisters India :: Mizoram Tourism
Mizoram Tourism
Mizoram is a mountainous state nestling in the southern tilt of the north-east region of India. Enclosed with green forests dominated by thick bamboo groves, teeming with vibrant wildlife, sheer cliffs and breath-taking waterfalls, dotted with distinctive landmarks of myriad folklores and picturesque villages of houses built on stilts, a land of dramatic seas of morning mists that enfold islands of hills and peaks. This is the land of the Highlanders, or the Mizos, who are by nature carefree and hospitable to guests. For anyone looking for a quiet holiday or outdoor activities in pristine and peaceful setting, this is a destination worth your while.
Mizoram
mi 'people'
zo 'hill'
ram 'country', Land of the Hill People
Mizoram is one of the Seven Sister States in North Eastern India, allotment borders with the states of Tripura, Assam, Manipur and with the neighboring countries of Bangladesh and Burma. Mizoram became the 23rd state of India on 20 February 1987. Its capital is Aizawl. Mizoram is situated in the northeast of India.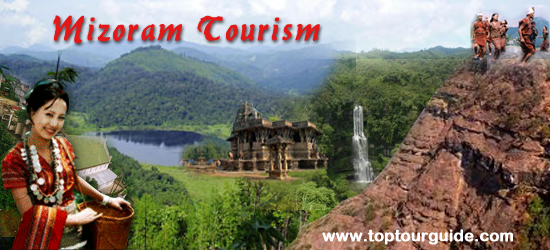 Mizoram Religion
The majority (87%) of Mizos is Christian. in various denominations, predominantly Presbyterian and the church forms a significant part of Mizo civilization. Hindus form a small minority (3.6%) and there are also around 8.3% Buddhists according to the 2001 census, mostly made up from Chakma settlers of Arakan origin. There is a tribal group called the Bnei Menashe of about 8,000 considered Jewish, with Muslims make up about 1.1% of the state population.
Mizoram Economy
Mizoram lags at the back economically within India with little growth due to the geographical lack of markets and raw materials. Cottage industry and other small-scale industries play a vital role in the economy. Forest products are being encouraged and the 9th Five Year Plan (1997–2002) gives priority to "agro-based industries." Around 70% of the population is engaged in agriculture.
The Industry Department actively promotes the following:

Zoram Industrial Development Corporation.(ZIDCO)
Mizoram Khadi and Village Industry Board. (MKVIB)
Zoram Handloom and Handicraft Corporation Limited. (ZOHANCO)
Mizoram Food and Allied Industries Corporation Limited. (MIFCO)
Zoram Electronics Development Corporation. (ZENICS)
Alcohol prohibition in Mizoram
In 1996 the Synod totally banned liquor under the Mizoram Liquor Total Prohibition (MLTP) Act. The church leaders or Mizoram Kohhran Hruaitute Committee keep on insisting that state government keeps the state free of alcohol. critic are of the opinion that the Liquor Ban Act, imposed in the Christian-dominated state from 1996, has totally failed and has only proliferated bootlegging of poor quality liquor, resulting in fatalities and increased prices of smuggled liquor.
Mizoram Tourist Places
Mizoram is considered by many as a good-looking place due to its dramatic landscape and enjoyable climate. There have been many attempts to increase income through tourism but many potential tourists find the lack of amenities to be a problem. However the State continues to encourage itself and many projects have been initiated. The tourism ministry continues to maintain or improve its tourist lodges throughout the state.


Foreign tourists are necessary to obtain an 'inner line permit' under the special permit before visiting. The permit can be obtained from Indian missions abroad for a limited number of days or direct from Mizoram Government authorities within India. The state is rich in bird diversity, which has the potentiality to make it a major birding destination. There is also a unusual record of the Wild Water Buffalo from the state. There are several past records of the Sumatran rhinoceros from Mizoram, then Lushai Hills.The small population of wild elephants can be seen in Ngengpui and Dampa Sanctuaries. For tourists who are interested in Cultural Heritage, the eastern part of Mizoram is more attractive. Most interesting sites are Mizo Poets' Square [also knawn as Mizo Hlakungpui Mual in Mizo]], the Great Megaliths locally known as 'Kawtchhuah Ropui', Lamsial Cave and so forth.
Important places to visit in Mizoram are
Aizawl
Tamdil
Vantawng Fall
Champhai
Phawngpui
Saiha
Lunglei
Rihdil
Dampa Wildlife Sanctuary
Reiek
Mizoram Map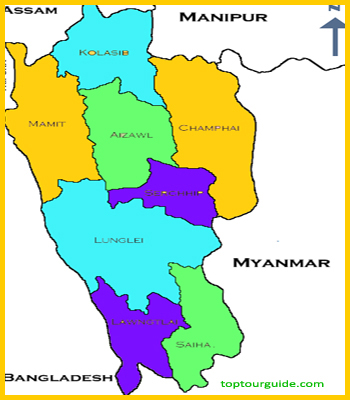 Mizoram Music
Mizo conventional tunes are very soft and kind, with locals claiming that they can be sung the whole night without the slightest exhaustion. The guitar is an accepted instrument and Mizos enjoy country style music. Within the church services are drums, commonly used and known locally as "khuang". The "Khuang" is made from wood and animal hide and are often beaten enough to instigate a trance like state with worshipers as they dance in a circular fashion. Mizos enjoy singing and even without musical instruments, they enthusiastically sing together, clapping hands or by using other rhythmic methods. Informal instruments are called chhepchher. The early Mizos were close to nature and music is still an important part of the cultural life. Whilst gospel music remains an integral part of Mizo culture, Western influence is evident from the contemporary music scene as young people experiment with rock, metal, rap, pop and hip-hop.