Kanha National Park
Kanha National Park is a national park and a Tiger Reserve in the Mandla and Balaghat districts of Madhya Pradesh, India. In the 1930s, Kanha area was divided into two sanctuaries, Hallon and Banjar, of 250 and 300 km² . Kanha National Park was created on 1 June 1955. Today it stretches over an area of 940 km² in the two districts Mandla and Balaghat. Together with a surrounding buffer zone of 1,067 km² and the neighboring 110 km² Phen Sanctuary it forms the Kanha Tiger Reserve."Kanha Tiger Reserve". Madhya Pradesh Forest Department. Retrieved 14 April 2010. This makes it the largest National Park in Central India.
The park has a significant population of Royal Bengal Tiger, leopards, the sloth bear, Barasingha and Indian wild dog. The lush sal and bamboo forests, grassy meadows and ravines of Kanha provided inspiration to Rudyard Kipling for his famous novel "Jungle Book "

Best Season: February to June
Morning Visiting Hours: 6:30 am to 12:00 noon
Evening Visiting Hours: 3:00 pm to 6:00 pm
Closed: 1 July to 15 October
The Nearest Airports are at Jabalpur, Raipur and Nagpur (Distances 175 km., 220 km. & 275 km., respectively)
Kanha National Park is home to over 1000 species of flowering plants. "Kanha National Park". Reservation Portal Madhya Pradesh Forest Department. MPOnline Ltd. , JV between MPSEDC of Govt. of Madhya Pradesh & TATA Consultancy Services. Retrieved 14 April 2010. The lowland forest is a mixture of sal (Shorea robusta) and other mixed forest trees, interspersed with meadows. The highland forests are tropical moist dry deciduous type and of a completely different nature with bamboo on slopes (Dendrocalamus strictus). A very good looking Indian ghost tree (kullu) can also be seen in the dense forest.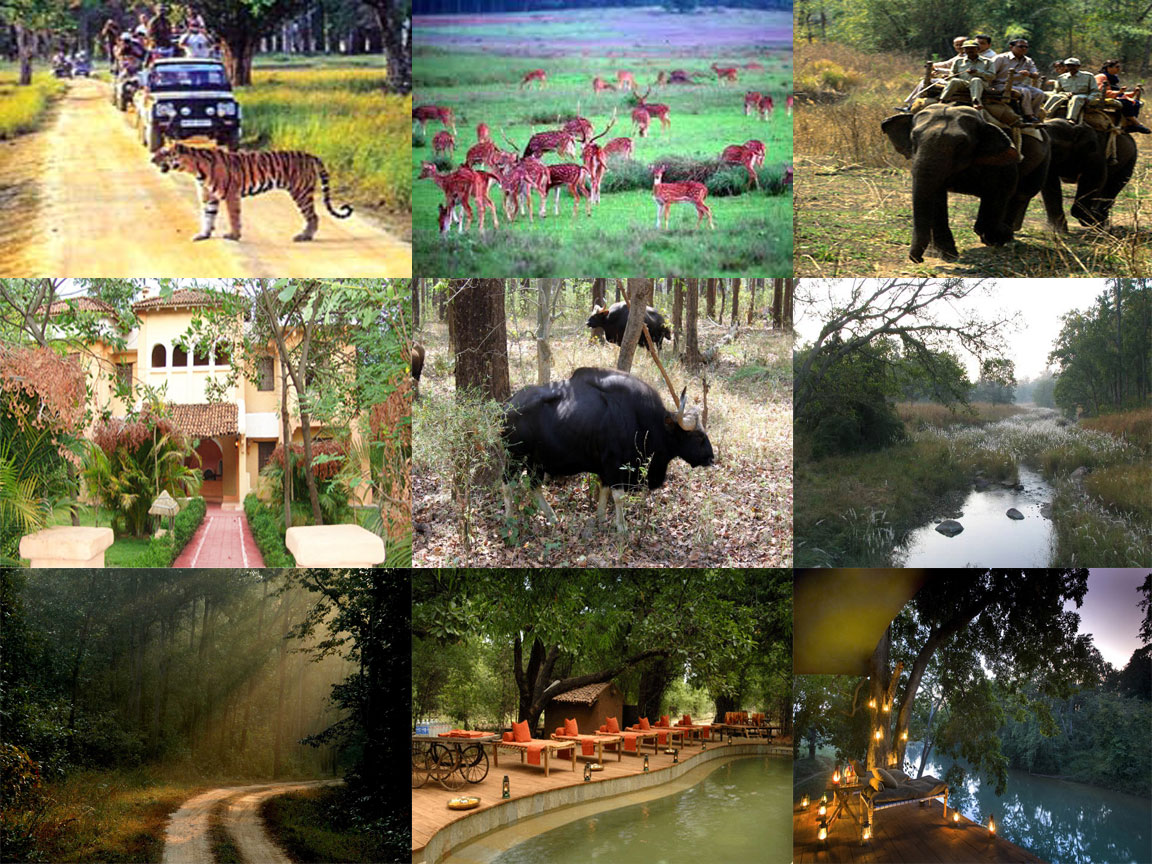 Kanha Tiger Reserve abounds in meadows or maidans which are basically open grasslands that have sprung up in fields of abandoned villages, evacuated to make way for the animals. Kanha meadow is one such example. There are many species of grass recorded at Kanha some of which are important for the survival of Barasingha (Cervus duvauceli branderi). Dense forested zones with good crown cover has abundant species of climbers, shrubs and herbs flourishing in the understory. Aquatic plants in numerous "tal" (lakes) are life line for migratory and wetland species of birds.
At Kanha the majestic tiger is the apex predator. Besides the Tiger, Kanha carnivore population includes leopards, wild dogs, wild cat, fox and the jackal and are carnivores commonly seen. Among the deer species Swamp Deer or Hard Ground Barasingha is pride of the place as it is the only sub species of swamp deer in India (Cervus duavcelli branderi). The animal is adapted to hard ground unlike swamp deer of the North which live in marshy swamps. Kanha National Park has been instrumental in rescuing the "Swamp Deer" from extinction. Indian Gaur (Bos guarus), belonging to the ox genus, is found in Kanha but seen mostly as winter ends. In summer gaur inhabit meadows and water holes in the park.
Other commonly seen animals in the park include the spotted deer, sambar, barking deer and the four-horned deer. The latter can be seen at Bamni Dadar climb. Recently, mouse deer have also been discovered in the tiger reserve. Black buck did not originally survive here as the habitat was not suitable. However, Black buck have recently been reintroduced inside a fenced area in the park. Nilgai can still be seen near the Sarahi Gate, while the Indian Wolf once commonly seen at Mocha is a rare sight now. Hyena and sloth bear are seen occasionally. Langurs and wild boars are common, but the pugnacious rhesus macaque is seen less often.
Nocturnal animals like fox, hyena, jungle cat, civets, porcupine, ratel or honey badger and hares can be seen outside the park confines.
Reptiles like pythons, cobras, krait, rat snakes, vipers, keelbacks and grass snakes are nocturnal animals, and are therefore rarely seen. There are many species of turtles as well as amphibians found in or near the water bodies.
Transport & facilities
Jabalpur, the most convenient place to approach the Park from, has the nearest airport (175 km), Nagpur (260 km) and Raipur(219 km) have other airports, Mandla (70 km) has a good connection with Kanha and there is a tourist taxi service from Jabalpur to the national park. From Jabalpur, the best way to travel is via Mandla and Nainpur - perhaps with an overnight stop - then taking the diversion at Bamhni. Mandla, Nainpur and Seoni all have sports clubs, Internet cafes, guides, Christian churches and some beautiful temples. There are three gates for entrance into the Park. The Kisli gate is best accessed from Jabalpur and stops at the village Khatia, inside the buffer area. The second gate is at Mukki and the third, most recently opened, gate is at Serai. An exciting conservation effort in this national park is the reintroduction of Barasingha. The Gaur will be relocated to Bandhavgarh and some Barasingha will be relocated to Satpura Tiger reserve The objective of this project is to introduce about 500 Barasingha in this national park to eight or nine different locations. There is also a project to capture about twenty tigers and relocate them to Satpura Tiger reserve.Reintroduction of Barasingha: Kanha National Park – Satpura Tiger Reserve